Since 1981, StableStrides has provided horse-centered activities for individuals from the ages of two to eighty two who have adaptive needs for the purpose of promoting positive physical, behavioral, cognitive, emotional, and social development.
We serve children, teens, adults, veterans, and service members with adaptive needs through Adaptive Riding, Mental Health Services, and Physical, Occupational & Speech Therapy.
Clients come to StableStrides independently and through referrals from other local agencies in the Pikes Peak community, as well as several surrounding areas.
"There's something about the graceful animals that spark a connection with children. And for children whose abilities to communicate are hampered by a disability of any kind, this unspoken connection leads to a silent bond. I can only write about what I witnessed between my young, hemiplegic daughter and the therapy horses that gently carried her on their backs, as if sensing the need to guide her and protect her on this healing journey between them."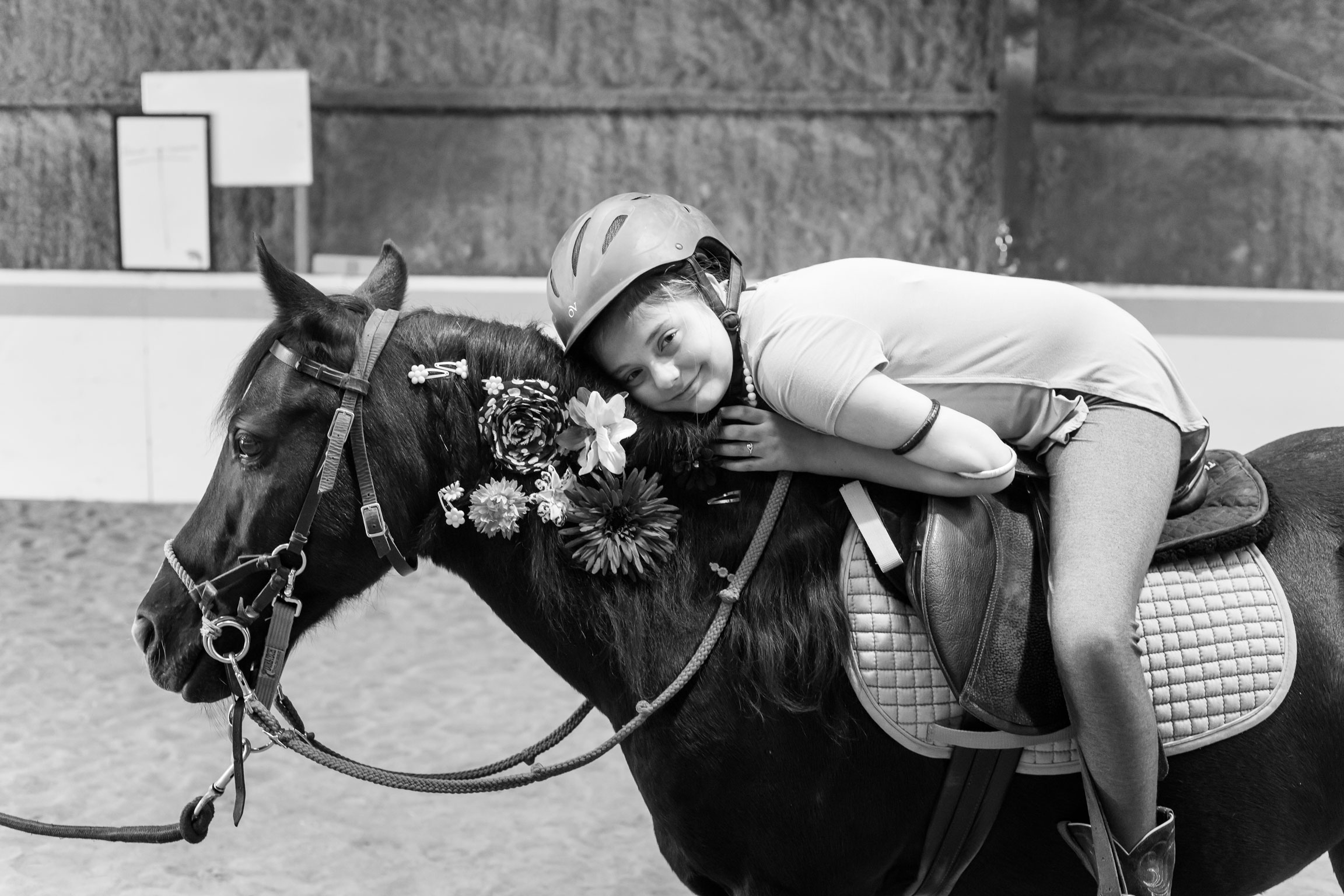 Age Restrictions:
Physical, Occupational & Speech Therapy: must be 2 years old or older
Adaptive Riding: must be 4 years old or older
Mental Health Services: age minimum depends on the need of the individual and is evaluated by a licensed mental health therapist.
There is no maximum age limit.
Needs Restrictions:
A medical diagnosis is not required to participate in StableStrides' programs.
See each individual service page for a list of the types of individuals who can benefit from horse-centered therapy:
Physical, Occupational & Speech Therapy
Veterans, Service Members, and their Families
veterans, active duty service members, and their families
More than 250 veterans, active duty service members, and their families come to StableStrides each year to work with horses. While grooming, learning ground skills, riding, and interacting with the horses, members of the military are learning ways to overcome the struggles of everyday civilian life and heal from emotional and physical scars. Our therapists and instructors are trained in military culture and understand that veterans, service members, and their families have a different set of needs than the civilians we serve. Our programs are structured specifically to serve those needs.
According to the Department of Defense, 22 veterans commit suicide every day. In a study done at PPTRC in 2012, our mental health program reduced suicide indicators in service members suffering from PTSD by 62%, in only eight weeks.
suicide indicators in service members reduced
12% of El Paso County citizens are veterans.
12% of El Paso County citizens are veterans. Our goal is to serve every veteran that is in need in our area. We offer all of our programs to our military clients. We accept Tricare Insurance for our Mental Health Services and we also have a scholarship program specifically for veterans and active duty service members. The goal of our Operation Mack Scholarship fund is to provide our services free of charge to as many veterans and service members as we can.
"When all the traditional methods for treating PTSD has been exhausted, Equine Therapy was suggested to me. The real light-bulb moment was seeing the horse react to my tension – he became uneasy and fearful. Was this really what my family felt with me? But the real lesson was when I was put back on track and relaxed, so did the horse. He joined up even after all the errors and mixed signals I had initially given"
Interested in participating in one of the programs at StableStrides or you just want to learn more?
Are you interested in donating to the Operation Mack Scholarship fund, and changing the lives of the people who have sacrificed so much for us?
Stay in the know…sign up for the StableStrides email list today