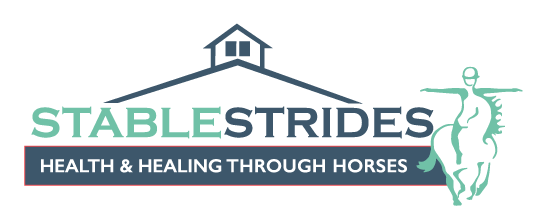 Our mission is to significantly improve the wellbeing of individuals through a connection with horses. We believe that horses and the therapy they provide is an essential solution to strong and healthy individuals, families, and communities.
"The best thing about StableStrides is how its welcoming culture fosters inclusion and equality. My loved one always feels valued and accepted as a member of their family. It's a safe haven that faithfully encourages growth and independence. They never get tired of seeing you or judge the pace of your progress. They are a pillar in the community, a genuine jewel, and for everything they do and have done year after year for my beloved daughter, who continues to gain skills and confidence under their devoted stewardship, I will be forever grateful."
EMPOWERING CHANGE
With your help, we were able to provide many therapeutic services during our 2022 fiscal year.
Join our team to empower even more change this year!
THE LATEST FROM OUR BLOG:
Our friends at UCCS in the Bachelor of Innovation Program helped put together this video to tell a little about who we are, why we do what we do, and special moments we've experienced along the way here at StableStrides.
JOIN US IN HELPING PEOPLE TAKE THE LEAD
in life and in the barn.
We need passionate people who want to make a difference and help change lives.
Are you ready to accept the challenge?
Stay in the know…sign up for StableStrides' email list today!